Born in Barcelona in 1970. In 1991 creates DDT Special Effects, which leads him to work in over 150 shootings for commercials and feature films as special effects supervisor and designer for more than 8 years. His former company won an Oscar Academy Award for Guillermo del Toro's Pan's Labyrinth.
His director career begins in 1995 shooting music videos with some of the most important Latin artists as Miguel Bosé, La Mala Rodriguez, Christina Rosenvinge, Luz Casal, Carlos Santana, Pablo Lopez or Alejandro Sanz, between many others. His music video works all together got more than 30 million views only at Youtube so far.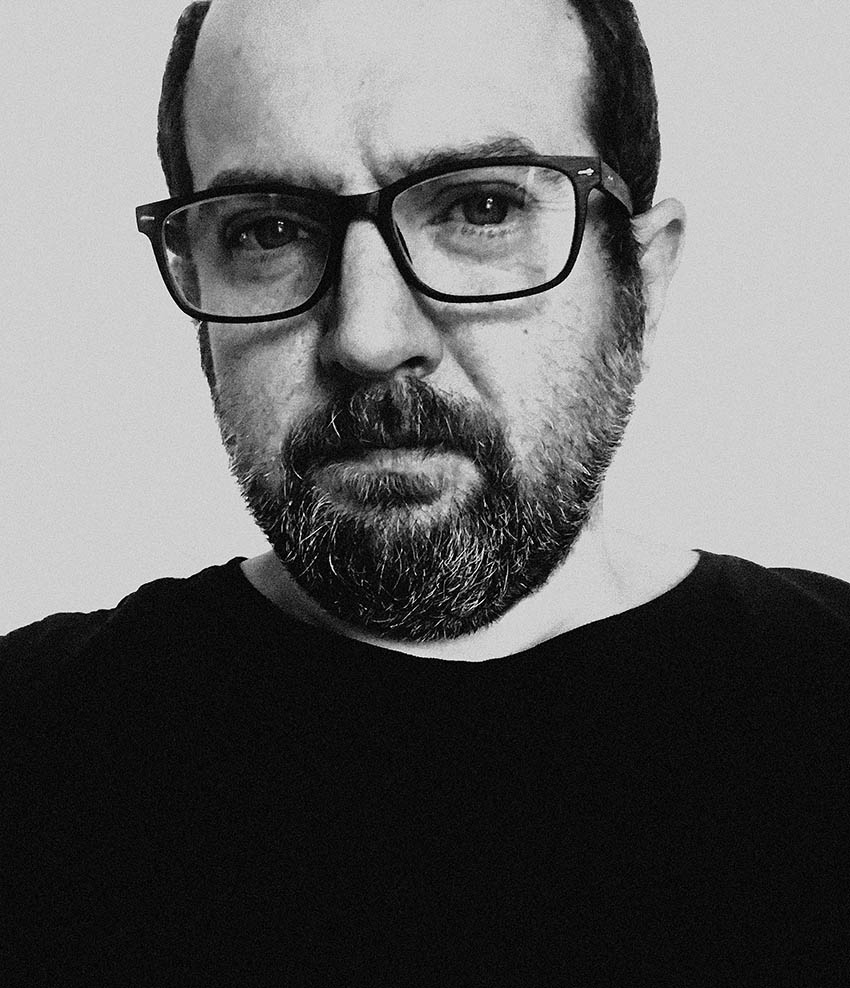 At the same time starts directing commercials for brands as Sony Playstation, The Coca Cola Co., Pepsico, Renault, Toyota, Volswagen, Peugeot, Canal+, Fuji, Cadbury, Mitsubishi, Sony-Ericsson, Telmex, Calsberg, Ferrari or Santander Bank from more than 250 advertising jobs. From small agencies to global brands as BBDO, Saatchi&Saatchi or Publicis, David has been shooting worldwide for markets as Germany, Japan, Italy, the US, Mexico, Qatar, Dubai, Russia, India, England and of course Spain. He has collaborated as well with different NGOs as Doctors Without Borders, Action Against Hunger or Red Cross creating for them campaigns and documentary materials.
His advertising work also gave him the chance to collaborate with actors as Oscar winner Javier Bardem or one of the biggest Bollywood stars, Farhan Akhtar. He also shot commercials with sport celebrities like MotoGP world champion Marc Márquez, F1 world champions Sebastian Vettel and Kimi Räikkönen, NBA players Pau and Marc Gasol, or international football players as James Rodriguez, Cesc Fabregas, goalkeeper Pepe Reina or Ronaldinho, between many others.
Some of his latest awards were 2017 Pantalla de Cristal Awards in Mexico to Best Director and Best Commercial for his Macronet Infinitum campaign. Also in 2018 his online campaign for Santander Bank "Formula Rock Contest" is awarded with a Bronze Lion at Cannes Festival, and as well with a Golden Sun at the El Sol Latin-American Festival.
TV & FILM WORK:
Directs his first short film in 1996, DOCTOR CURRY, nominated at more than 30 international festivals, awarded at the CINEMA JOVE Festival of Valencia with the International CANAL+ Award, Silver award at Montreal FANTASIA Film Festival, and Best Short Film at the Chicago International Film Fest.
His second short HAPPY BIRTHDAY 2 YOU, shot in 2006 based on a story by controversial writer Hernán Migoya, was selected and awarded in more than 60 festivals around the world including Best Short awards at Screamfest Los Angeles and New York Horror Film Festival, and Best Spanish Short at San Sebastian Fantastic Film Festival. This work gets the attention of some Hollywood talent agencies, so from 2007 to 2010 he is represented in L.A. by Endevour Agency and later by Paradigm Agency.
Over this period he gets attached to several scripts and starts developing projects like Lewis Carroll´s Phantasmagoria working together with rock star Marilyn Manson and to be produced by Wild Bunch. Also develops the supernatural thriller Mile Zero starring Milla Jovovich, written by James Vanderbilt (Zodiac, The Amazing Spiderman) to be produced by Phoenix Pictures (Shutter Island, Black Swan), and the adaptation of Bret Easton Ellis' novel Lunar Park to be produced by Lawrence Bender (Kill Bill, Pulp Fiction) But unfortunately those projects, plus some others developed both in L.A. and Spain, didn't get finally made.
In 2011 he directs the first season of the Mexican TV drama NIÑO SANTO, a psychological thriller set in the Yucatan jungle starring Karla Souza (How to get away with Murder) written by Mauricio Katz (Maniac, The Bridge) with cinematography by Gonzalo Amat (Happy!, Person of Interest, Man in the High Castle) and produced by Canana Films (Diego Luna and Gael García Bernal's production company) Niño Santo was acquired by Amblin Television to produce its American remake, and has been announced Netflix is developing the Brazilian adaptation.
In David 2014 creates for the celebrations of the National Day of Qatar the short film THE STORM, a big VFX production including in its crew artists with credits on films as District 9 or Game of Thrones TV show.
Nowadays David continues directing commercials and music videos worldwide, and is still working on the development of different fiction projects both in Europe and the US.
AWARDS: